Spec Interview with David Harris Smith
(The following article is reprinted courtesy of The Hamilton Spectator, McMaster University's partner in the Research in the City Lecture Series.)
Poor hitchBOT, we barely knew ye
Steve Buist
Hamilton Spectator  |  Nov 20, 2015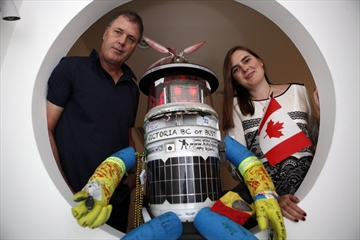 HitchBOT poses with its co-creators Frauke Zeller, an assistant professor at Ryerson University, and David Smith, a professor in the department of communication studies at McMaster University.
From the simplest of ideas came a worldwide adventure.
"We thought: 'Let's make a robot and send it out into the world and let's see what people want to do with it,'" said David Harris Smith, a multimedia and communication studies professor at McMaster University.
And that's how hitchBOT was born, the hitchhiking robot with rubber boots, pool noodle limbs and glowing red eyes that garnered headlines around the world.
As it turned out, hitchBOT packed a lot of adventures into its short life.
It travelled across the country, from Halifax to Victoria, then through parts of Europe before spending a couple of weeks in the United States.
Along the way, it crashed two weddings, was served high tea on the front lawn of the Fairmont Empress Hotel in Victoria, B.C., did the wave at a Boston Red Sox game in Fenway Park and was the guest of honour at an Anishinaabe native powwow on Manitoulin Island.
On Wednesday evening, Smith will give a lecture titled "The Death and Lives of hitchBOT the Hitchhiking Robot" at the new downtown David Braley Health Sciences Centre on Main Street West.
His talk, which is free and open to the public, is part of the Research in the City lecture series, a joint partnership between McMaster and The Spectator.
"We're interested in robotics and artificial intelligence but especially this idea of the autonomous machine — a technology that can kind of look after itself," said Smith, co-creator of the robot along with Ryerson University professor Frauke Zeller.
"Could we actually send a robot out into the world, much like you would send a satellite out to explore interplanetary space?"
HitchBOT's journey was more of a social experiment than a technological one. What was most interesting were the interactions between people and a machine.
"We did learn a lot in getting some sense of people's aspirations, fears, their attitudes values and beliefs around technology and around artificial intelligence," said Smith.
"And, of course, this is happening at a time when some of the world leaders of science and business — Elon Musk, Bill Gates and Stephen Hawking — are weighing in on the perils of a world in which artificial intelligence becomes solely the domain of the military, for example."
Sadly, the little fella met his demise at the hands of unknown assailants in the early morning hours of Aug. 1 on a park bench in Philadelphia, the same city that once booed Santa Claus.
The robot was found decapitated, with its arms torn off, its legs broken and its electronics gutted.
But such is the beauty of modern technology that hitchBOT may one day rise from the scrap heap and resume its travels.
Smith said they've received offers to help rebuild hitchBOT and send him off to new countries. There's also the possibility of a documentary film, book offers and even a feature fiction film offer.
905-526-3226